Home


Ordering & Shipping

Order Form

Supplies & N2 tanks

Semen Listings

Recent Sires (90 days)

Angus - Black

EPD Comparisons

Angus Bargain Semen

2020 Angus List

Angus - Red

GeneSTAR data

Red Angus Bargain Semen

Charolais

Club Calf

Maine Anjou Bargain Semen

Chianina Bargain Semen

Gelbvieh - All

Black Purebred

Red Purebred

Black & Red Balancer

Gelbvieh - Bargain Semen


(includes Fullbloods)

Igenity data

GeneSTAR data

2020 Gelb. Catalog


(PDF 47 pages)

Hereford - All

Hereford - horned

Hereford - polled

Salers

Shorthorn - w/photo

Shorthorn - listing

Simmental - All

Simmental - Black

Simmental - Red

Simm - Solutions

Simm - Bargain Semen

GeneSTAR data

Bargain Semen

SmartCross

The Advantage

The System

Gelbvieh

Balancers

Influenced Females

Hitting the Target

The Bottom Line

General Info

Diversity & Innovate

Gelbvieh Hall of Fame

Grow Rich with A.I.

Stem Cell Research

Cancun Adventure

Links
Send Email

TEX Playbook 5437
[ AMF-CAF-D2F-DDF-M1F-NHF-OHF-OSF-RDF ]



Click photo to enlarge

Click to view a video

Reg. No.: 18414912
Calved: 8/3/2015
Tattoo: 5437

Conv. Semen: $25
Certificates: $40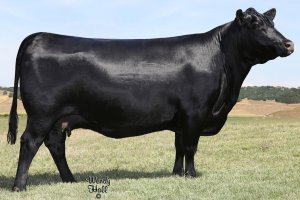 Rita 1C43 of 9M26 Complete - Dam of TEX Playbook
TEX Playbook 5437:
Semen is now available for TEX Playbook 5437, a son of Basin Payweight 1682 and out of the foundation Blackcap donor dam Rita 1C43. Playbook had created stir for his combination of an impeccable phenotype and powerful numbers across the board. The donor dam of this total package bull is the direct daughter of the former featured Three Trees Ranch donor program, 9M26 sired by the proven REA leader Summitcrest Complete. This young exciting sire's granddam is the direct daughter of the 3 million dollar producer and herd sire maker Rita 5F56 and maternal siblings include: the $50,000 Springfield and Genex sire, Rito9M25; the $140,000 Riverbend Ranch donor Rita 9Q15; the longtime breed REA and $B leader Rito 9Q13; and the Belle Pointe Ranch sire, Woodside. Rita 1C43 has recently produced a full sister to TEX Playbook 5437, who sold at the 2016 Sale by Sea to Crazy K Ranch for $35,000 and a maternal sister went to Spruce Mountain Ranch for $15,000.



Click the "Search" button when the Angus Association appears.



Basin Payweight 1682
Basin Payweight 006S
Vermilion Payweight J847
Basin Lucy 3829
21AR O Lass 7017
HARB Pendleton 765 J H
21AR O Lass F24A
TEX Playbook 5437
Rita 1C43 of 9M26 Complete
Summitcrest Complete 1P55
C F Right Design 1802
Summitcrest Elba 1M17
Rita 9M26 of Rita 5F56 Pred
G A R Predestined
Rita 5F56 of 1I98 FD