Home


Ordering & Shipping

Order Form

Supplies & N2 tanks

Semen Listings

Recent Sires (90, 30, 7)

Angus - Black

EPD Comparisons

Angus Bargain Semen

Black Angus w/video

2022 Angus List

Angus - Red

GeneSTAR data

Red Angus Bargain Semen

Charolais

Club Calf

Maine Anjou Bargain Semen

Chianina Bargain Semen

Gelbvieh - All

Black Purebred

Red Purebred

Black & Red Balancer

Gelbvieh - Bargain Semen


(includes Fullbloods)

Igenity data

GeneSTAR data

2020 Gelb. Catalog


(PDF 47 pages)

2022 Gelbvieh Flyer


(PDF 11 pages)

Hereford - All

Hereford - horned

Hereford - polled

Salers

Shorthorn - w/photo

Shorthorn - listing

Simmental - All

Simmental - Black

Simmental - Red

Simm - Solutions

Simm - Bargain Semen

GeneSTAR data

Bargain Semen

SmartCross

The Advantage

The System

Gelbvieh

Balancers

Influenced Females

Hitting the Target

The Bottom Line

General Info

Diversity & Innovate

Gelbvieh Hall of Fame

Grow Rich with A.I.

Stem Cell Research

Cancun Adventure

Links
Send Email

Gelbvieh - Black Balancer
3G Die Cast 637D
Black - Polled




Click photo to enlarge

Reg No: 1354383
Born: 1/27/2016
Breed %: 73.438% GV | 26.563% AN
Bwt: 81
Adj Bwt: 79
Wwt: 870
Adj 205 Wt: 794
Ywt: 1380
Adj 365 Wt: 1327
Scrotal: 40.5
Cane Code:
Semen: $30
AMF-DDF-NHF-OSF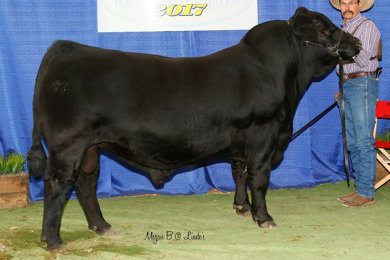 Die Cast at the Iowa State Fair
3G Die Cast 637D:
3G Die Cast 637D is the 2018 National Champion Gelbvieh Bull that is sired by the two-time National Champion 3G Zip Line. He is a full brother to 3G Bootlegger 439B the 2015 Reserve National Gelbvieh Bull. In fact, Eldon Starr toured the 3G Ranch calf crop in the summer of 2016 and he commented Die Cast was his pick of the calves while still on the side of his 4-time Dam of Merit mother.

View EPD and Pedigree

3G ZIP LINE 266Z
3G EXCELLENCE 063X
3G TIME MACHINE 758T ET
3G COWGIRL NIK 325N
3G COWGIRL WINNIFRED 982
3G SPACE COWBOY
3G COWGIRL 747T

3G Die Cast 637D

3G COWGIRL UTOPIA 876U
3G SMOKE N' MIRRORS
S A V 8180 TRAVELER 004
3G COWGIRL 351N
3G COWGIRL FRECKLES 670F
07T
3G COWGIRL 306C